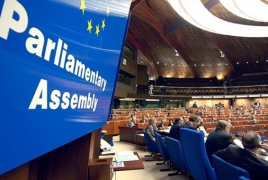 September 28, 2021 - 11:02 AMT
PanARMENIAN.Net - The Parliamentary Assembly of the Council of Europe (PACE) on Monday, September 27 approved a report that confirmed Turkey's deployment of Syrian mercenaries to Azerbaijan during the Second Karabakh War in fall 2020.
The Turkish delegation proposed deleting the paragraph about "the use by Azerbaijan, with Turkey's assistance, of Syrian mercenaries, and" but the amendment was not approved.
"The UN Working Group on the use of mercenaries has commented on widespread reports that Azerbaijan, with Turkey's assistance, used Syrian fighters during the six-week war, including on the frontline. The fighters appeared to be motivated primarily by private gain and in the case of death their relatives were reportedly promised financial compensation as well as Turkish nationality," the report titled "Humanitarian consequences of the conflict between Armenia and Azerbaijan" said.
"The Chair of the Working Group indicated that the way these individuals were recruited, transported and used in and around the conflict zone appeared to be consistent with the definition of a mercenary. The rapporteur has seen photographs and videos and reports which back up these allegations."
In the report, the Parliamentary Assembly expressed regret over the tragic humanitarian consequences of the conflict between Armenia and Azerbaijan. Recommendations were directed to Armenia and Azerbaijan on steps to help solve the humanitarian consequences in the short and long term and move towards a process of peace and reconciliation. The international community, including the Council of Europe, was encouraged to help both countries.