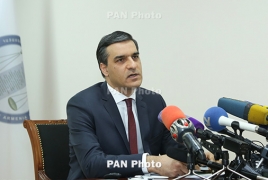 October 4, 2021 - 14:04 AMT
PanARMENIAN.Net - Anti-Armenianism is a domestic and foreign policy tool, a source of nourishment for the Azerbaijani authorities, Human Rights Defender Arman Tatoyan said on Sunday, October 3. According to him, the President of Azerbaijan blames the Armenians for everything he is actually guilty of.
Tatoyan believes it's a targeted policy to keep his own people in Armenophobia or to distract them from their own problems.
"The situation is so extreme that the killing or torture of an Armenian by an Azerbaijani is not only a normal phenomenon, but is rewarded by the Azerbaijani leaders," Tatoyan said.
The Ombudsman was making a reference to Armenian army lieutenant Gurgen Margaryan who was murdered in Budapest, Hungary, on 19 February 2004 by Ramil Safarov, a lieutenant in the Azerbaijani army. Immediately after his extradition to Azerbaijan in 2012, Safarov was promoted to the rank of major, provided with accommodations by the Azerbaijan government and hailed as a hero.
"Clearly, everything that the President of Azerbaijan accuses the Armenian people of is in fact an integral part of his state policy with a mirror effect."
1. He declares that hatred towards Azeris is established in Armenia as an official ideology but goes on to proudly admit that a generation full of hatred towards the enemy [Armenians] was brought up in Azerbaijan.
2. He speaks about the "Armenian fascism" nonstop, but his statements are full of fascist ideas, such as those about Armenians being "hyenas and dogs", that they "have no brain", they "have no morality", "Armenia is an artificial and valueless country."
3. He speaks about Islamophobia in Armenia and Artsakh and calls on the Islamic world to take revenge on the Armenian people, but in reality he pursues a policy of hostility using the religious component, evidenced by the Armenian churches and khachkars destroyed and desecrated by his army.
"The whole truth must be revealed to the world. No government of the Republic of Armenia has ever pursued a policy of inciting hatred or enmity against the people of Azerbaijan. It should be shown that a policy of tolerance and respect for other religions, including Islam, has always been pursued, starting with school curricula," Tatoyan added.