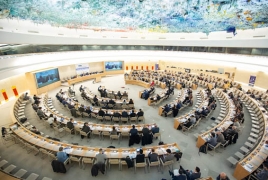 October 20, 2021 - 12:53 AMT
PanARMENIAN.Net - During the 48th session of the UN Human Rights Council (UNHRC) in Geneva, Armenia has circulated 8 petitions, which mainly focused on the human rights violations committed by Azerbaijan in the context of the Nagorno Karabakh conflict, Factor.am reports.
The Armenian delegation also initiated a joint statement, which was joined by 19 states from all UN regional groups. The statement noted that prisoners of war and civilian detainees should be released immediately and repatriated after the end of hostilities, and that international humanitarian law prohibits hostage-taking and extended detention of prisoners of war as bargaining chips.
The Armenian delegation also delivered 41 national speeches, weighing in on the main topics discussed during the session, as well as introducing Armenia's experience and reaffirming the country's commitment to human rights protection.
The speeches also referred to the consequences of Azerbaijan's aggression against the indigenous Armenian population of Artsakh (Karabakh), as well as to numerous human rights violations, including the right to life, as a result of Azerbaijan's incursion into the internationally recognized sovereign territory of Armenia.
The Armenian side drew the attention of the UN Working Group on the Use of Mercenaries on the need for a thorough investigation of the transfer of armed terrorists from the Middle East to Azerbaijan.
In the war against Artsakh (Karabakh), Turkey supported Azerbaijan militarily, also by transferring terrorist mercenaries from the Middle East to fight against Karabakh. Armenia was the first to report on Turkey's deployment of thousands of Syrian fighters to Azerbaijan. International media publications followed suit, as did reactions from France, Russia, Iran and Syria.