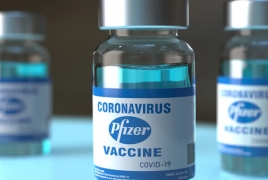 October 20, 2021 - 13:48 AMT
PanARMENIAN.Net - Covid-19 vaccine manufacturer Pfizer has been accused of hiding behind a veil of secrecy to profiteer during the "worst public health crisis" in over 100 years.
That was the key criticism made by Public Citizen, a consumer rights group, which published a report containing leaked Pfizer contracts with the United States, United Kingdom, European Commission, Albania, Brazil, Colombia, Chile, Dominican Republic and Peru, ABC News reports.
In some of the contracts (some of which were in draft or final form), Pfizer had the power to block countries from donating their COVID-19 vaccines to other countries, unilaterally change delivery schedules if there was a shortage, and demand that public assets be used as collateral.
If there was a dispute, it would be not be decided by a court (a public forum), according to some of the contracts. Instead, they stated, any disagreements would be resolved through private arbitration under New York law.
"The contracts offer a rare glimpse into the power one pharmaceutical corporation has gained to silence governments, throttle supply, shift risk and maximise profits in the worst public health crisis in a century," Zain Rizvi, the author of the report, said.
"Pfizer's demands have generated outrage around the world, slowing purchase agreements and even pushing back the delivery schedule of vaccines."
Some countries signed contracts, waiving "immunity against [Pfizer's] precautionary seizure of any of [their] assets", including Brazil, Chile, Colombia and the Dominican Republic.
The Brazilian government was prohibited from making "any public announcement concerning the existence, subject matter or terms of [the] agreement" or commenting about its relationship with Pfizer, unless it had the company's prior written consent.