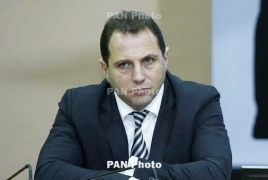 May 6, 2022 - 11:54 AMT
PanARMENIAN.Net - Former Defense Minister Davit Tonoyan, who has been in custody since September 2021, has said that ex-Chief of the Army General Staff Onik Gasparyan had indeed reported during the Second Karabakh war that hostilities must be stopped within 2-3 days.
In an interview with NEWS.am, the former official was asked: after the 44-day war, former Chief of Staff Onik Gasparyan declared that he had reported to the Security Council on the fourth day of the war that it was necessary to stop the war within 2-3 days. [Prime Minister Nikol] Pashinyan denies Gasparyan's statement. Did you, as the Minister of Defense attending that meeting, hear Gasparyan's report?
"I have mentioned it before, and now I reaffirm that the above-mentioned statement was indeed made. Moreover, it was made not only in the meetings of the Security Council, it was also agreed with me," Tonoyan said.
"Nevertheless, the Armed Forces were ready to fight and take no step back, regardless of the diplomatic efforts to end hostilities."
The Second Karabakh war lasted 44 days and ended when Armenian Prime Minister Nikol Pashinyan, Russian and Azerbaijani Presidents Vladimir Putin and Ilham Aliyev signed a ceasefire statement on November 9, 2020. Under the deal, the Armenian side returned all the seven regions surrounding Nagorno-Karabakh, having lost a part of Karabakh itself in hostilities.