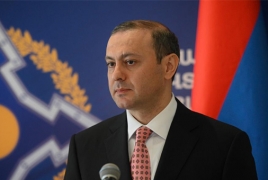 June 17, 2022 - 18:35 AMT
PanARMENIAN.Net - Secretary of the Security Council of Armenia Armen Grigoryan has once against rejected that negotiations are underway to provide Azerbaijan with a "corridor".
The Azerbaijani side has on multiple occasions raised the question about a "corridor" through the southern Armenian province of Syunik that would connect Nakhijevan to the rest of Azerbaijan. The Armenian side, however, has repeatedly denied being involved in negotiations for the provision of a corridor to Azerbaijan, stressing that they have only agreed to unblock transport communications in the region.
Grigoryan made the remarks at a meeting with his counterparts from CSTO member states in Yerevan on Friday, June 17. He noted that the trilateral statement from November 2020 makes no mention of a "corridor" through the territory of Armenia.