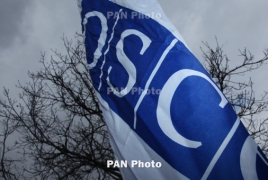 June 22, 2022 - 18:10 AMT
PanARMENIAN.Net - Moscow doubts Washington's sincerity about readiness to cooperate with Russia within the OSCE Minsk Group co-chairmanship, Russian Foreign Ministry Spokesperson Maria Zakharova told a weekly briefing on Wednesday, June 22.
Zakharova's statements came after U.S. Deputy Secretary of State Karen Donfried said the United States was ready to work with Russia on achieving peace in Nagorno-Karabakh.
"If Washington and Paris really took into account the unique mediation format of the OSCE Minsk Group Co-Chairs, they would not have ignored the mandate approved by all OSCE participating states and would not have severed ties with the Russian co-chair of the OSCE Minsk Group, defiantly without any consultations, on February 24," the Russian diplomat said.
"This caused irreparable damage to the work of the co-chairs."
According to Zakharova, the United States and France have not yet given a clear explanation for the "outrageous step", and there are no guarantees that such "irresponsible" actions will not be repeated.
"You can't pretend that nothing has happened, but we need to take into account the new realities. I think the goal was to isolate us, but again the calculation was wrong. Russia is most interested in normalizing relations between Armenia and Azerbaijan. [We] cannot allow the politicized steps of some external players to undermine the already difficult efforts to restore peace and stability in the region," Zakharova added.