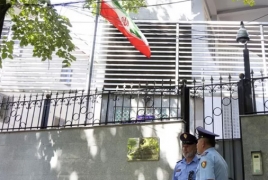 September 8, 2022 - 16:59 AMT
PanARMENIAN.Net - Albania cut diplomatic ties with Iran and expelled the country's embassy staff over a major cyberattack nearly two months ago that was allegedly carried out by Tehran on Albanian government websites, the prime minister said Wednesday, September 7, the Associated Press reports.
The move by NATO member Albania was the first known case of a country cutting diplomatic relations over a cyberattack.
The White House vowed unspecified retaliation Wednesday against Iran for what it called "a troubling precedent for cyberspace."
In a statement, the White House said it has had experts on the ground for weeks helping Albania and had concluded Iran was behind the "reckless and irresponsible" attack and subsequent hack-and-leak operation.
The government's decision was formally delivered to the Iranian Embassy in Tirana, the capital, in an official note, Prime Minister Edi Rama said. All embassy staff, including diplomatic and security personnel, were ordered to leave Albania within 24 hours. On July 15, a cyberattack temporarily shut down numerous Albanian government digital services and websites.
Rama said an investigation determined that the cyberattack wasn't carried out by individuals or independent groups, calling it "state aggression."
"The deep investigation put at our disposal undeniable evidence that the cyberattack against our country was orchestrated and sponsored by the Islamic Republic of Iran which had involved four groups for the attack on Albania," Rama said in a video statement.
Iran on Wednesday condemned the diplomats' expulsion, calling the action ill-considered and short-sighted, according to Iranian state TV.
In a statement, the Iranian Foreign Ministry denied Tehran was behind any cyberattack on Albanian government websites, adding that it's Iran which is a target of such attacks on its critical infrastructure.
Tirana said it was working with Microsoft and the FBI in an investigation into the cyberattack.