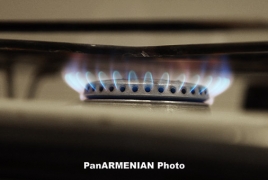 November 24, 2022 - 17:22 AMT
PanARMENIAN.Net - The Armenian government will pay $34.79 million to Gazprom Armenia CJSC every year as compensation for the annual capacity of the 5th Hrazdan energy bloc, according to a draft protocol, approved by the government on Thursday, November 24, on making appropriate changes to the sale agreement signed with ArmRosgazprom CJSC in 2013.
31.79 million from said amount will be spent on the return on investments, while $3 million will go to the operation and reimbursement of maintenance costs for the 5th power unit.
The Hrazdan TPP does not operate at full capacity and regularly has to stop operation in order to prevent overproduction of electricity.
"The insufficient capacity of the 5th power unit is largely due to the lack of commercial contracts, as well as the delay in the construction of the Iran-Armenia power line with a capacity of 400 kW," the government's draft decision reads.
"As a result, not only were Gazprom's investments not redeemed, but credit obligations increased, reaching $100 million."
The government believes that the annual compensation of $34.79 million will contribute to the relaunch of the 5th power unit of the Hrazdan TPP, as well as create an opportunity for keeping the price of gas supplied to Armenia unchanged for 10 years.
After approval at today's government meeting, the protocol, which was drawn with the Russian side after two years of nogotiations, will be submitted to the President of Armenia for approval and will enter into force immediately after ratification. Most likely, the first payment to the Russian side will be made as early as 2023.