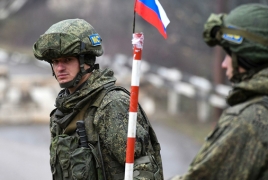 January 11, 2023 - 12:28 AMT
PanARMENIAN.Net - President of Azerbaijan Ilham Aliyev has said that the Russia peacekeeping contingent deployed in Nagorno Karabakh (Artsakh) will leave the region in 2025 – five years after it was first deployed in 2020.
Under a trilateral statement signed by the leaders of Armenia, Russia and Azerbaijan to end the 2020 war in Karabakh, the Russian peacekeeping contingent was deployed for a period of 5 years. If one of the parties announces its intention to complete the mission six months before the end of this period, it will not be extended.
Almost a month after Azerbaijan's closure of the Lachin Corridor connecting Karabakh to Armenia, Aliyev said on Tuesday, January 10 that he was "ready to provide those living in Karabakh with all the conditions and rights that are granted to the citizens of Azerbaijan."
"For those who want to live there under the flag of Azerbaijan, all conditions, rights and security will be created for them as citizens of Azerbaijan. And if someone does not want to become a citizen of Azerbaijan, the Lachin corridor is open, they can leave, no one will prevent that," Aliyev said.
Aliyev maintained that the year 2023 is the last chance for Armenia to sign a peace treaty with Azerbaijan.
"I just want to say that, in my opinion, this is the last opportunity, because then 2024 will come, and in 2025 the mission of Russian peacekeepers will end. They (Armenians) should look a little further than the tip of the nose," he added.