The latest cover of the Christian Science Monitor magazine features Armenian Prime Minister Nikol Pashinyan and is titled "From prisoner to Prime Minister."
The photo, by the way, is taken by PAN Photo agency in Armenia during the parliamentary elections in December 2018.
"Nikol Pashinyan led a peaceful revolution that may turn Armenia into a democratic model. Is he too popular?," reads the weekly's cover.
"Our cover story looks at the man who led that revolution, Nikol Pashinyan, who is now the prime minister. Mr. Pashinyan is a man of boundless charisma and a savvy former journalist," editor Mark Sappenfield says.
"But what he accomplished, he accomplished because he was able to build unity. Put simply, he was able to rally a critical mass of citizens around the call to urgently defend the country from becoming a one-party state. Nearly a year after the protests, the sense of unity endures. In December elections, Pashinyan's party won 70 percent of the vote."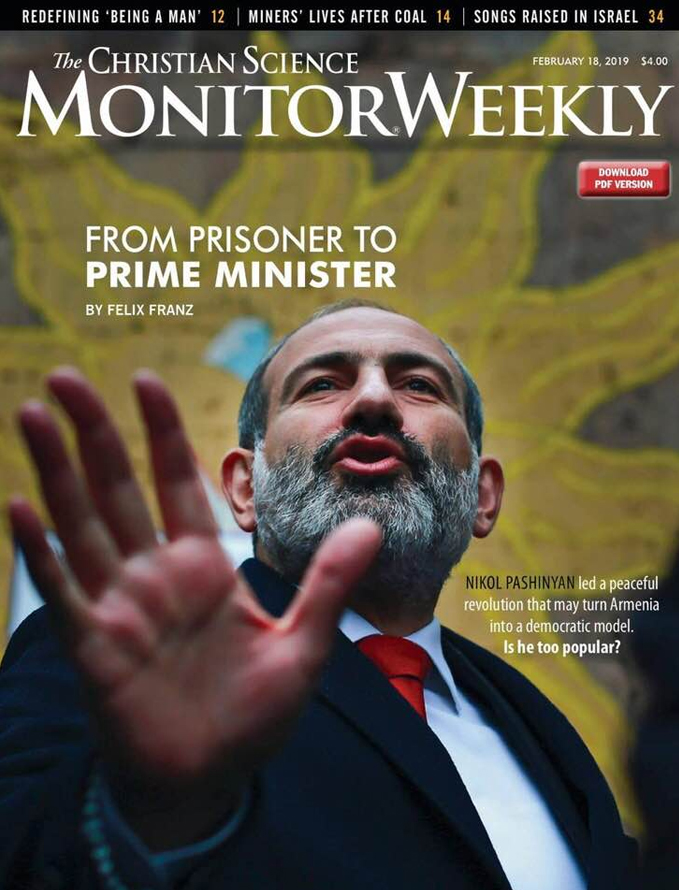 The February 18 issue also has an extensive article about the Prime Minister's career.
For a few days in the spring of 2018, Armenia made headlines around the world. The country staged an entirely peaceful revolution. Hundreds of thousands of people protested against government corruption and a power grab by then-Prime Minister Serzh Sargsyan. The protests brought the country to a halt through joyous and highly organized civil disobedience. Sargsyan stepped down with a remarkable mea culpa. "Nikol Pashinyan was right, I was wrong," Sargsyan announced via an official statement on his government's website.
"Charisma is a divine gift, according to its Greek root, which literally translates to "gift of grace." Science continues to search in vain to quantify exactly what "it" is, but there's little doubt that you either have it or you don't. Nikol Pashinyan has it. If you talk to people who know him, it is the one characteristic that is always mentioned," the article says.
According to the feature, for now, Armenia remains in a collective frenzy over the peaceful revolution, and "Pashinyan is enjoying an extended honeymoon as leader."