Several thousand hectares of forested areas were damaged as a result of the war unleashed by Azerbaijan against Nagorno-Karabakh, Armenian Minister of Environment Romanos Petrosyan told reporters on Tuesday, January 26.
"There is no final assessment of the material damage inflicted on the country. During fighting, however, fires broke out in some forested areas, which could not be extinguished amid the war," Sputnik Armenia cited Petrosyan as saying.
"As a result, several hundred hectares of forested areas were damaged in the country's northeast (the forests of Artsvaberd in the Tavush province - Ed.), while the rest were damaged in Syunik province (Goris, Kapan - Ed.)."
According to him, the Ministry has sent six letters to international organizations since the beginning of the war. The first three letters outline the environmental risks of the war. In addition, the risk of wildfires from Azerbaijan's use of phosphorus munitions has been described and a 36-page report has been prepared prepared. He noted that international partners have expressed interest in the matter and asked for detailed information.
The minister emphasized that the largest damage was inflicted on the forests of Artsakh (karabakh), which are currently under the control of Azerbaijan.
In early November, videos showing banned white phosphorus munitions being fired by Azerbaijan on Armenian-controlled areas in Karabakh started appearing on Twitter and other social media outlets. The targeting of forested areas is a strategy sometimes used to flush combatants from an area or to inflict high-collateral environmental destruction.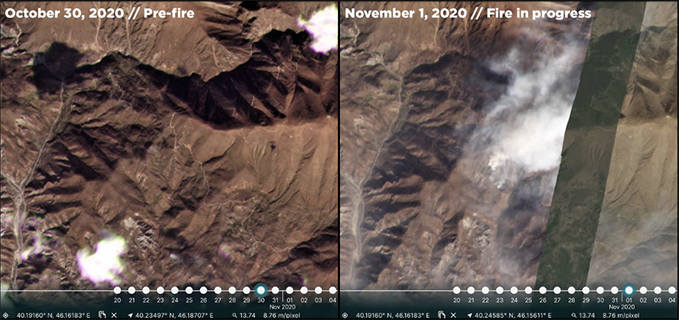 Emerging open-source satellite imagery from the last week of fighting in Karabakh showed the environmental destruction resulting from Azerbaijan's use of phosphorus munitions on forests in Karabakh.